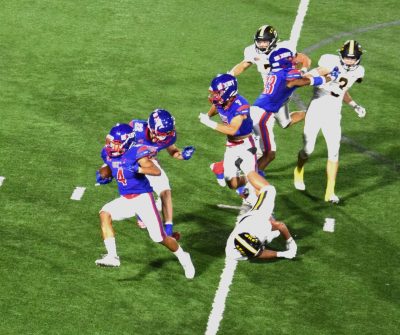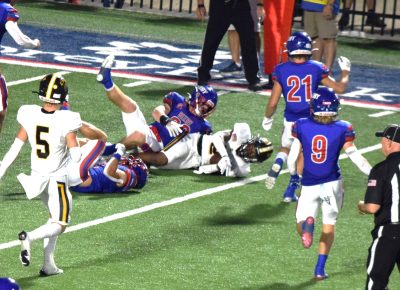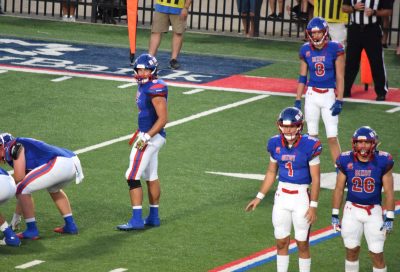 By Ron Holt
After shaky starts early during the first two games this season, Bixby High's top-ranked Spartans altered the scenario last Friday night in the home opener at Lee Snider Field.
Whether it was the excitement generated by playing at home or playing in front of a large Military Appreciation Night crowd, the Spartans responded with their most efficient first half performance of the season against Class 6AII's fifth-ranked Sand Springs.
The Spartans, 3-0 and ranked No. 1 in Class 6AI, scored early and often while receiving offensive, defensive and special team contributions in rolling to a 53-0 first half lead before thumping the Sandites, 67-3, in the final non-district contest this season.
Bixby extended its 11-man state record winning streak to 52 games while the Sandites fell to 1­-1. The Spartans are idle this week before visiting Norman North on Friday, Sept. 23, in the Class 6AI-District 1 opener.
In the first half, Bixby's offense – highlighted by three touchdowns from senior standout tight end Luke Hasz – scored on all seven possessions. The defense stymied Sand Springs' offense which started its eight possessions from its own 20, 17, 20, 20, 20, nine, 12 and 20-yard lines.
And Bixby kicker Levi Hoffman executed an onside kick which was recovered by Spartan teammate Joshua Newkirk.
"We were a little bit cleaner tonight. They did a good job bottling up our run game, but I thought we threw the ball well," said 13th-year Spartan head coach Loren Montgomery. "Luke had a really big night."
Sand Springs put together a six-play drive to start the game before tackles for loss by linebacker Hank Puckett and Jett Turner forced a Sandite punt.
In two plays, Bixby scored when senior quarterback Connor Kirby passed to speedy Kordell Gouldsby for a 62-yard touchdown. Kirby ran for the two-point conversion for an 8-0 Spartan lead with 8:22 showing in the first quarter.
The Spartans' defense gave the offense excellent field position minutes later as Turner pressured Sandite quarterback Marek Matheson into passing as he was being tackled. Bixby linebacker Sam McCormick made a diving interception, his second of the season, at the Sandite 12.
When Bixby's drive stalled, Hoffman booted a 31-yard field goal, his second of the season, giving the Spartans an 11-0 lead with 5:42 left in the opening stanza.
The next time Bixby touched the ball it took three plays to extend the lead as Kirby found Hasz alone in the Sandite secondary for a 71-yard touchdown. Kirby and Hasz combined for a two-point conversion pass play as Bixby's lead grew to 19-0 with 2:21 left in the first quarter.
Spartan senior cornerback Tyson Williams ended the Sandites' ensuing drive when he intercepted Matheson, eluded one defender and out-ran the rest for a 36-yard TD with 1:10 left in the first quarter. Hoffman's point-after kick was blocked leaving Bixby holding a 25-0 advantage.
"We saw it a lot on film so when I saw the quarterback starring it down, I made a break on it. The corner blocked the running back for me and it was clear sailing after that," said Williams of his first career touchdown.
The Spartans continued the scoring barrage in the second quarter starting with Kirby's one-yard TD run which ended a drive, highlighted by a 25-yard pass play from senior quarterback Austin Havens to Christian Kaiser. Hoffman's conversion made it a 32-0 game with 9:43 left until halftime.
Hoffman executed the onside kick which Newkirk recovered at the Sandite 34-yard line and three plays later, Havens connected with Hasz for a nine-yard TD as the Spartan lead grew to 39-0 with 8:46 left in the second quarter.
Havens hit McCormick for a 30-yard score followed by a 17-yard TD run off a reverse by Hasz to close out the first half with the Spartans on top 53-0. Hasz bowled over Sandite defensive back RJ Smittick at the goal line for his first rushing TD this season.
It was a productive offensive outing for Hasz, who has committed to Arkansas. He caught three passes for 93 yards and two touchdowns while rushing once for a touchdown. In the Spartans' first two games this season, Hasz, a devastating blocker, had four receptions for 44 yards and no scores.
"I kinda knew it was coming because of some things they put into practice, but it was great to get the ball in my hands and make something happen," the 6-3, 220-pound Hasz said of his increased involvement in the Spartan offense. "It was good to get going again.
"I was actually supposed to throw to Kirby who was running a corner fade but then I had to run," Hasz said of his 17-yard TD run. "I was thinking I might try jumping over their last guy but then he stood up, so I just ran into him.
"The first 30 to 40 minutes of practice I work with the linemen on foot work. It's rough but it's definitely helped me develop more as a tight end. We had a good week of practice. We had a lot of new things put in … coach (Tyler) Schneider does a good job of that," he added.
Bixby added a 12-yard touchdown pass from Havens to Christian Kaiser and a 37-yard TD sprint by Turner in the third quarter to finish its offensive outburst. Sand Springs scored its only points on a 24-yard field goal by Jonathan Daniels, also in the third quarter.
Offensively, little went wrong for the Spartans, who finished with 487 yards of total offense, averaging 8.5 yards per play. Bixby, which was penalized four times, didn't punt until the 4:56 mark of the third quarter. Coaches, however, always find areas needing improvement.
"There's a few things we still need to clean up, but the kids did really well," said Schneider, Bixby's 12th-year offensive coordinator. "I think we're starting to find our identity a little bit. A lot of the things we ran tonight we've been working on the last two weeks. We were able to get to them tonight. We got to empty the playbook a little.
"We got off to a fast start tonight. Both quarterbacks are doing a good job of knowing their roles. Connor is doing a great job this year with an expanded role from what he had last year while Austin is also doing a good job. He knows our offense but he's adjusting more to it during games," he added.
The quarterback tandem of Kirby and Havens continue as a double threat. Havens was 14-of-17 passing for 162 yards and three TDs. Kirby was 3-of-4 passing for 135 yards and two scores while rushing for 10 yards and one TD. Wide receiver Kordell Gouldsby caught three passes for 84 yards and a touchdown.
Bixby's defense had another dominating effort, limiting the Sandites to 111 total yards, an average of 2.2 yards per play. Numerous Spartan defenders contributed to forcing Sand Springs to punt nine times.
Junior linebacker Hank Puckett led Bixby's defense with 11 total tackles. He had three unassisted stops and three tackles for loss. Sophomore linebacker Cooper Parker finished with nine tackles, seven unassisted. He also had three tackles for loss. Junior defensive back Colton Kaiser was credited with seven tackles, one unassisted, while breaking up one pass.
Seniors Jakeb Snyder and Jersey Robb along with junior lineman Brandon Hobbs each had five tackles while junior Kason Hatley ended with four tackles. Puckett and senior Jaydyn Bartels each had a sack.
"I felt like this was the best start we've had this season. Against Owasso and Har-Ber we started a little slow … we came out hitting on all cylinders," said Puckett, who leads the Spartans on the season with 31 total tackles including five tackles for loss, two sacks and eight quarterback hurries. "We had a little motivation when they huddled up on our Spartan logo.
"When the ball is in the air we're going after it and when we tackle someone, we're trying to rip the ball out," Puckett said of the Sandites' two turnovers. "It was a great environment. I was really excited and proud of our fans for staying no matter the score."
BYE WEEK – The Spartans are idle Friday before making their first appearance in Class 6AI at Norman North. The Timberwolves, who visit Yukon Friday, Sept. 16, are 2-0 this season, defeating Norman (40-36) and Edmond Santa Fe (28-20).
"I thin it comes at the right time, we're a little banged up," Coach Montgomery said. "We'll get in a good week of practice and then prepare for Norman North on the road."
Snyder agreed with his head coach, "I think it always helps, it freshens everybody up. It's just another week of practice. You don't want to lose a week off you want to practice hard every week like you are preparing for a game.
"Now, the real season starts in the coming weeks. We'll need to prepare and work to get better every week," he said.
'D' FINDS END ZONE – When senior defensive back Tyson Williams returned a pass interception for a touchdown against Sand Springs it was the fourth straight game – going back to last season – Bixby's defense has scored a touchdown.
In last season's Class 6AII state championship game against Deer Creek-Edmond, Jakeb Snyder returned a pass interception 39 yards for a touchdown. This season, Sam McCormick returned a pass interception 20 yards for a TD against Owasso while Colton Kaiser returned a pass theft 75 yards for a TD at Springdale Har-Ber.
"That always helps out our offense when the defense scores … we take a lot of pride in that," Snyder said. "It's not easy to score on defense so when you do it's special."
NOTABLES – Besides pressuring Sand Springs' quarterback into throwing an interception, Jett Turner, a 5-10, 165-pound junior, paced the balanced Spartan rushing attack with 53 yards on four carries and one touchdown. … Thirteen different Spartans caught passes in the game. … In other games involving Bixby opponents last week Owasso won at Broken Arrow (27-26), Westmoore fell to Choctaw (46-20), Moore defeated Norman (42-7) and Jenks lost at Union (38-3). Har-Ber, Southmoore and Enid had an off-week. … The Spartans were ranked No. 59 nationally by MaxPreps entering this week. … Sand Springs' talented junior running back Kenneth Page rushed for 205 yards and one TD on 39 carries in the season-opening win over Sapulpa. Against Bixby he was held to 10 yards rushing on 15 carries.