By Ron Holt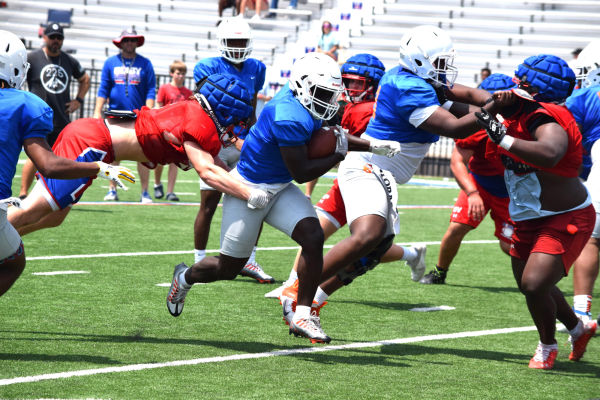 After three weeks of daily workouts, passing leagues, team camp and hosting additional events, Bixby High's football coaches and players were idle July 3-7 during the Oklahoma Secondary Schools Activities Association's mandatory dead period.
It was a needed break after the organized workouts which began the last week of May and continued the final three weeks in June.
The Spartans returned to workouts Monday (July 10) and hosted a passing league Tuesday (July 11). BHS hosts a Junior High Team Camp Tuesday and Wednesday (July 12) before participating in the competitive Southwest Elite 7-on-7 Showcase in Springdale, Arkansas Thursday and Friday (July 13-14).
While it was a busy time prior to the break, the Spartans benefited from numerous opportunities in the weightroom and on the field.
"It's exciting, all the reps we've been getting through the summer really has our players progressing," said Bixby head coach Loren Montgomery, who will entering his 14th season at the Spartan helm. "It's fun to see so many student athletes developing at this critical time."
In late May, Bixby hosted a team camp which included Illinois power East St. Louis, Tulsa Union, Midwest City, Edmond Memorial, Bentonville (Arkansas) and Bentonville West. The Spartans, who are looking to fill vacancies on both sides of the ball, made strides as a team during the event.
The popular Eastern OK OL-DL Camp, hosted annually by Bixby, drew the largest number of participants at the event (June 20-21) with 641 campers attending. The two-day event is highlighted by the hog jousting contest featuring offensive linemen against defensive linemen.
"This was my fifth or sixth year. I started in seventh grade, it's a great camp," said Spartan 6-5, 240-pound senior offensive tackle Brody Duffel, who will be in the starting lineup for the third season. "Every year the camp has grown. This year we had 641 campers … I can't believe how it's grown.
"They've brought in some of the best coaches since it began. We've had former NFL players come out with other coaches from all levels. I remember coming out here in seventh grade and I thought it was crazy seeing all the big seniors. Now, I finished my senior year at the camp.
"The camp impacts offensive and defensive linemen here in Oklahoma and other states. There's great competition which really has helped me develop … iron sharpens iron," said Duffel, a Division I recruit.
"The coaching you get here is on another level. My goal every year was to come in with an open mind and learn two or three different things I could take to put in my toolbox to develop as a player."
Also seeing growth and development during his time in the OL-DL Camp is Brandon Hobbs, a 5-10, 235-pound senior defensive lineman who will be in the starting lineup for the second season.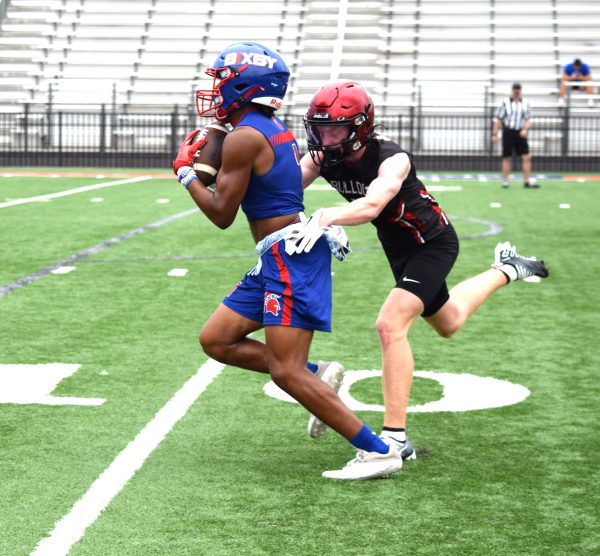 "I think most of our linemen have attended since seventh grade. From a defensive standpoint I think there are a ton of people who come out for the camp. Everyone looks forward to the hog jousting … it's been fun for me as a small D-lineman to go against the bigger offensive linemen," Hobbs said.
"Absolutely, it's helped me. It's a great way to start the summer. We don't usually play these guys during the season so we only see them during hog camp so you try to learn as much as you can. It's pretty special … it's a huge camp. I think we had 100 more campers than last year. I love that Bixby hosts, so we don't have to drive."
With senior Clay Peters and sophomore Carson Kirby sharing snaps at quarterback, Bixby was undefeated in winning the large school title in the recent 20-team Skordle 7-on-7 Showcase which was hosted by the Spartans on Friday, June 23. Cushing, a Class 4A state finalist in 2002, was the small school champion.
In order, the Spartans defeated Sand Springs (42-2), Bartlesville (22-21), Derby, Kansas (37-9), Stillwater (24-20), McAlester (39-0), Wagoner (30-6) and Wagoner (24-18) in bracket play.
NOTEBOOK – Bixby continues workouts through the end of July in preparation for the start of fall practice in shorts and shoulder pads on Monday, August 7. Full pad practices begin Friday, August 11. The annual Bixby Fall Classic scrimmage will be Friday, August 18, while the defending Class 6A-I state champion Spartans open the season on Thursday, August 24, against Owasso at the University of Tulsa's Stadium. … Cale Fugate, Bixby's 2022 all-state footballer and 2023 graduate, was named the All-World Defensive Player of the Year by the Tulsa World. … The Daily Oklahoman's 2024 Super 30 features Bixby's wide receiver-linebacker Sam McCormick (No. 25) and offensive lineman Brody Duffel (No. 23). Spartan receiver-kick returner Kordell Gouldsby was also included earlier in the Super 3