Bixby High School
10th Grade Modern History
8th Grade OL/DL Coach
Varsity Defensive Line Coach
Varsity Shot/Discus Coach
Coach Jackson will be entering his first season as an assistant Football, Basketball, and Track & Field Coach for the Bixby Spartans.
Before arriving in Bixby, Coach Jackson attended the University of Wyoming graduating with a Bachelors of Arts and Science in Social Science. He was a 4 year starter as an Offensive lineman in 2015-2019. While playing for the Wyoming Cowboys, he achieved multiple awards such as 8th highest graded Offensive lineman in FBS 2018, 6-time Mountain West Team of the week, 2-Time National Team of the week. Along with 2 bowl game appearances, 2017 Idaho Potato and 2016 Poinsettia Bowl, and 2016 Mountain West Division Champs.
Prior to College, Coach Jackson went to Kingfisher Highschool from 2011-2015. He played both sides of the ball as a Offensive Lineman and Defensive
Lineman. During his career he was a 2014 OCA Coaches All-State Football Nominee and also helped lead his team to win a State Championship in Class 3A football. In the Offseason of Football, Coach Jackson played 3 years of High School Basketball and was a 3-Time State champion in Shot Put.
Coach Jackson, spent most of his life growing up in Elgin, Oklahoma where he played all the sports he could. He is a son to Sammy and Julie Jackson and brother to Tanner Jackson.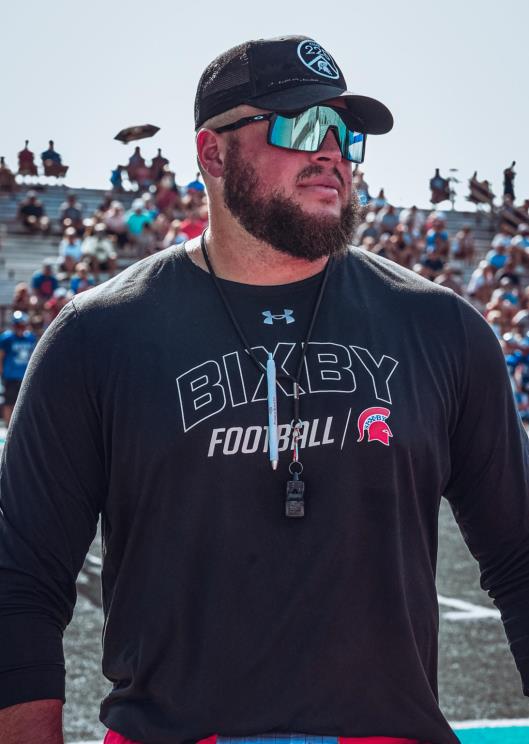 Alma Mater(s):
University of Wyoming
Kingfisher Highschool