Bixby Public Schools
Head Strength & Conditioning Coach
Coach Myers will be entering his 3rd season as the Strength and Conditioning Coach for the Bixby Spartans.
Coach Myers is Strength and Conditioning Coach Certified(SCCC) through the Collegiate Strength and Conditioning Coaches Association (CSCCA) as well as a Certified Strength and Conditioning Specialist through National Strength Coaches Association (NSCA). Coach Myers is also a Level 2 Sports Performance Coach through USA Weightlifting.
Before arriving at Bixby, Coach Myers spent 4 years as the S & C Coordinator for Edmond Memorial High School. During this time Coach Myers also served as the Defensive Line Coach for the Football team. Prior to Edmond Memorial, Coach Myers worked as a Graduate Assistant for 2 years at East Tennessee State under Master Strength Coach Al Johnson.
Prior to entering the coaching profession, Coach Myers was a 4-year starter on the defensive line at Weber State University in Ogden, Utah (2011-2015). Myers served as the team captain twice during his final two seasons. Myers also received Honorable Mention All-Conference honors during his senior year.
Coach Myers earned a Masters of Science in Kinesiology and Sports Studies at East Tennessee State University and holds a Bachelor of Science in Human Performance from Weber State University.
Coach Myers attended High School at Edmond Memorial (2007-2011). Myers received All-State Honors as a Defensive Tackle during his senior year and was also named the Edmond Defensive Player of the Year.
Coach Myers and his wife (June 2023) Amanda love spending time together with their two dogs Millie and Manny.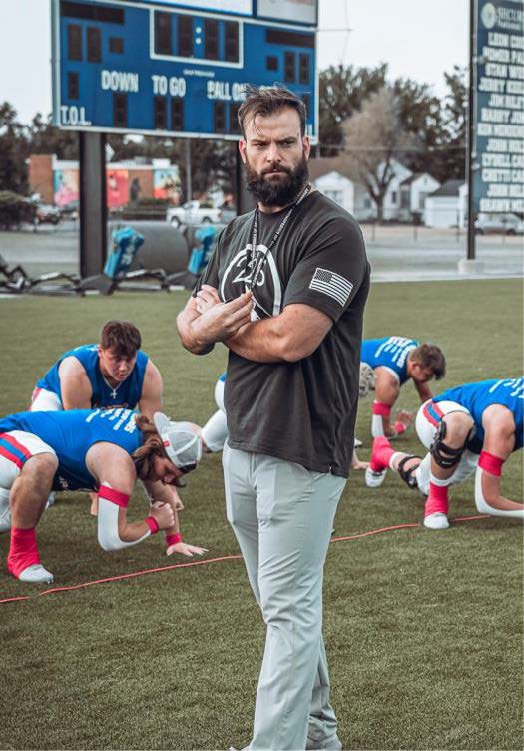 Alma Mater(s):
Weber State University
East Tennessee State University
Edmond Memorial High School